SOLYLUNA Home & Spa, is an innovative concept in Punta de Este, where a high-end tower, amenities and privacy are combined, with all the features that guarantee charm and quality of life. The perfect harmony between privacy, pleasure and services.
Provide the guest with all the services required. So also offers the freedom to make home life, hence the name "Home", as the possibility of making a barbecue with your guests in the same tower (in their barbecue). Or if you prefer to prepare your meals or a work meeting, the apartment has this facility and has all the necessary infrastructure to rest with tranquility and privacy:
Entrance hall with large glazed surfaces.
Reception 24 hours.
Lobby with hierarchy stators.
Park.
Outdoor heated pool (enabled from December to April), solarium and toilets.
Toilettes on the ground floor.
2 Barbecues (rooms with BBQ) with panoramic views.
Fitness center (Gym)
Covered parking with comfortable circulation.
Bicycle nursery.
Nursery for sunbeds and umbrellas.
CCTV, Closed security circuit.
Telephone exchange.
Laundry (automated laundry room) with valet service.
Satellite television.
Maid service
Beach Service
Free Wi-Fi throughout the tower.
Cafeteria and Snack on the terrace.
.. and also Spa service: HYDROTHERAPY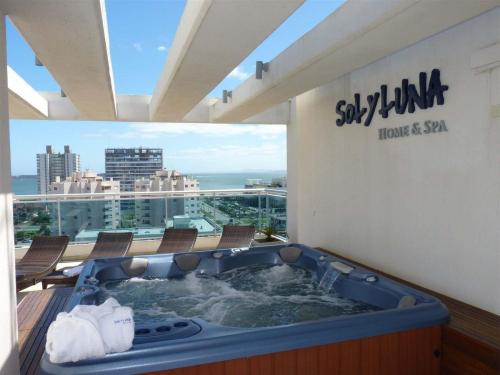 Sauna, Turkish bath, Scottish shower and Relaxation room on the ground floor.
Hydromassage for 7 people with panoramic view on 11th floor.
Massage room overlooking Punta del Este on the terrace of the tower.
also the services that make your stay more pleasant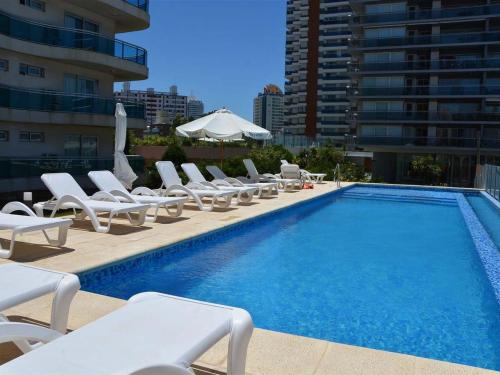 White clothes.
Maid service
Continental breakfast.
Bath set